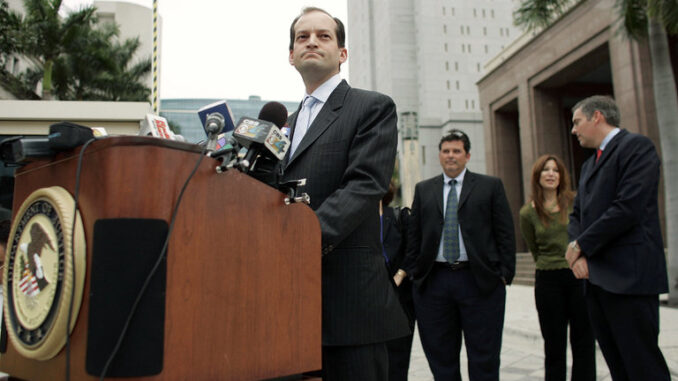 Reprinted from The New York Times by Yamiche Alcindor on March 12, 2017.
In 2008, three years after R. Alexander Acosta had decamped from the Justice Department's Civil Rights Division for the United States attorney's post in South Florida, the Justice Department's in-house investigator laid out a damning conclusion: Under Acosta's watch, his office had repeatedly violated federal law and department policies by weighing political affiliations in hiring and assessing civil rights employees.
The inspector general laid most of the blame on a subordinate of Acosta's, Bradley Schlozman, but the investigation concluded that Acosta had ignored warning signs about hiring practices.
To William Yeomans, who spent 26 years working at the Justice Department and now teaches constitutional law and civil rights at American University, Acosta got "a little bit of a pass." …
Reprinted from In These Times by Bruce Vail on March 13, 2017.
"Erik Loomis, assistant professor of history at the University of Rhode Island and a labor commentator at the progressive blog Lawyers, Guns & Money said:
"'The selection of Alexander Acosta should provide no comfort for those who worked to reject Andy Puzder. Acosta has a lifetime of anti-union and anti-worker positions. Appointed to the National Labor Relations Board by George W. Bush, Acosta consistently decided with employers during his term. His support of Ohio's attempt to suppress black voting in 2004 is deeply disturbing. That the AFL-CIO seems to think Acosta is as good as they are going to get under Trump is depressing, but perhaps realistic.'
"William Gould IV, a law professor at Stanford University … and a former NLRB chairman during the President Bill Clinton administration, cites several cases as examples of Acosta's anti-worker positions …