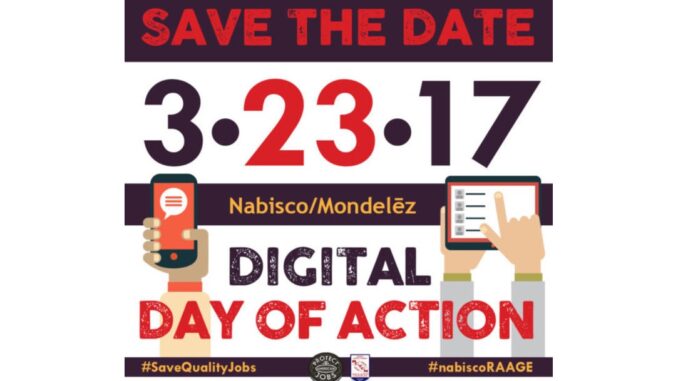 Reprinted from the AFL-CIO blog Now by Jackie Tortora on March 23, 2017.
The consequences of corporate greed are disastrous. Just ask the 600 former Mondelēz/Nabisco working people and members of the Bakery, Confectionery, Tobacco Workers and Grain Millers (BCTGM) union in Chicago, who were laid off one year ago today as the company shifted production to Mexico.
More than 5,000 Nabisco workers in North America have been given pink slips in the past two decades while Mondelēz executives have made out like bandits. Mondelēz's CEO has made more than $200 million in the past 10 years. Billions have gone back to the largest investors in dividends and stock buybacks.
To mark this solemn anniversary, today's Digital Day of Action will center on sharing this one-minute promo for the upcoming short-form documentary "Made in America," a Front Page production, which will air on PBS this spring. …