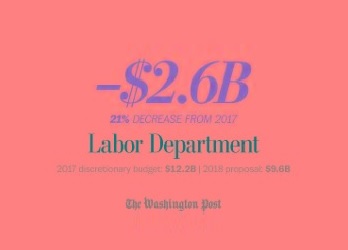 Reprinted from The Washington Post by Jonnelle Marte on March 16, 2017.
The Trump administration proposed $2.6 billion in cuts for the Labor Department in a plan that would significantly reduce funding for job training programs for seniors and disadvantaged youth.
The plan would also shift more funding responsibility to states when it comes to certain training and job placement programs.
The proposal would shrink the Labor Department's budget by 21 percent from current levels, to $9.6 billion for fiscal year 2018. While the administration provided estimates for some of the proposed reductions, it did not specify where the majority of the cuts would come from.
The White House's proposal would eliminate the Senior Community Service Employment Program, which helps low-income job seekers age 55 and older find work by pairing them with nonprofit organizations and public agencies. The administration estimates that it would save $434 million by cutting the program, which aims to help people land permanent jobs. …