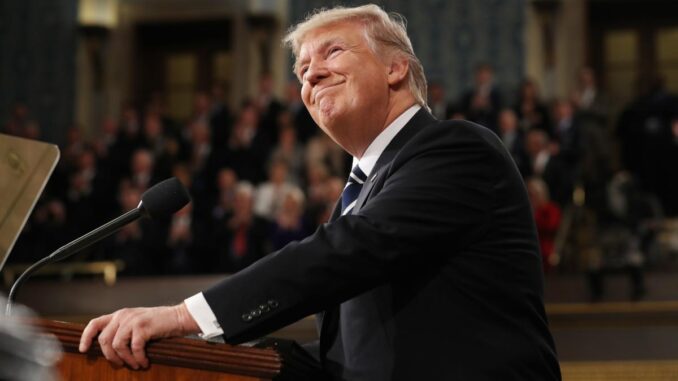 Reprinted from The Washington Post by Philip Rucker, Robert Costa and John Wagner on March 1, 2017.
… Seeking to steady his presidency after a tumultuous first 40 days, Trump had an air of seriousness and revealed flashes of compassion as he broadly outlined an agenda to rebuild a country he described as ravaged by crime and drugs, deteriorating infrastructure, and failing bureaucracies.
Trump's speech touched on his plans to overhaul the nation's health-care system and tax code, but it was short on specifics and heavy on lofty prose. Struggling to steer a bitterly divided nation with his job-approval ratings at historic lows, Trump effectively pleaded with the American people to give him a chance and to imagine what could be achieved during his presidency. …
"With this president more than any other, his speeches are detached from reality," Senate Minority Leader Charles Schumer (D-New York) said Wednesday morning on NBC's "Today" show. "In his campaign, and even his inaugural speech, he talks to the working people of America, but for the last 40 days, his actions have been decidedly on the side of special interests, hurting working America." …
Reprinted from The Guardian UK by Alan Yuhas on March 1, 2017.
In his first presidential address to Congress, Trump claimed 94 million aren't working and Obamacare is collapsing. Alan Yuhas sorts fact from fiction.
"Obamacare is collapsing."
The Affordable Care Act's healthcare program does have problems, but it is not "collapsing" or in the much warned "death spiral" in which rising costs push healthy people out of the market, ever increasing fees, and then pushing companies out as well. But healthcare premiums are increasing at varying rates around the country, on average by 22%, making an unstable market state-to-state. Rates were increasing before the law was enacted, however, and about 30 million people are enrolled in the program. …
"Right now, American companies are taxed at one of the highest rates anywhere in the world."
The US is not even in the top 30 highest-taxed nations in the world, according to the Organization for Economic Cooperation and Development. The OECD's most recent data ranks the US 31st of 34 industrialized nations for tax revenue as a percentage of GDP – far behind Denmark, Britain, Germany and Luxembourg. The US ranks 17th for corporate tax revenue, and 19th for tax revenue per capita. …
Reprinted from The New Yorker by John Cassidy on March 1, 2017.
… Details of how he would bring about his ambitious goals were lacking. But rhetoric wasn't. "Crumbling infrastructure will be replaced with new roads, bridges, tunnels, airports, and railways, gleaming across our very, very beautiful land," he promised. He also pledged "massive tax relief for the middle class," and much lower corporate taxes, too. He also said, "I am going to bring back millions of jobs," and that he would work with Congress to create "a better health-care system for all Americans."
Absent from Trump's discussion of these issues was any proper explanation of how any of his proposals would be paid for. He did say his trillion-dollar infrastructure plan would be "financed through both public and private capital," but he didn't provide any details, and the words "budget deficit" didn't once cross his lips. …
Reprinted from the AFL-CIO's blog Now by Jackie Tortora on March 1, 2017.
AFL-CIO President Richard Trumka appeared on Fox Business Network with Maria Bartiromo Wednesday morning to discuss his reaction to President Donald Trump's State of the Union speech Tuesday night. Watch the video clip.