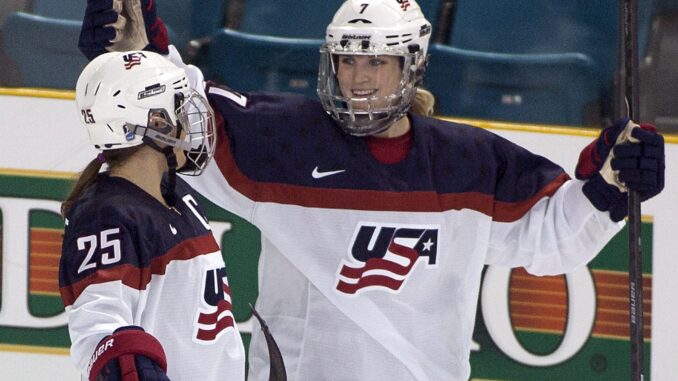 Reprinted from The Wall Street Journal by Matthew Futterman on March 15, 2017.
In the expanding world of pay disputes between underpaid athletes and sports bodies, the US Women's National Hockey team Wednesday said it would take a step others have often been reluctant to: not show up for its games.
The team's players said they would not play at their world championships—scheduled for two weeks in Plymouth, Michigan—because they are weary of being paid salaries that put them around the poverty line.
The team's boycott matters because the US women are the defending world champs. They have medaled in all five of the sport's Olympic tournaments. They are one of only four or five quality teams in the world, making their presence essential to the legitimacy of any major tournament. …
Reprinted from The New York Times by Seth Berkman on March 15, 2017.
Members of the United States women's national team have decided to sit out the International Ice Hockey Federation world championship this month, after negotiations for an increase in wages and support from U.S.A. Hockey stalled.
"We are asking for a living wage and for U.S.A. Hockey to fully support its programs for women and girls and stop treating us like an afterthought," the team captain, Meghan Duggan, said in a statement. "We have represented our country with dignity and deserve to be treated with fairness and respect."
The eight-team world championship begins March 31 in Plymouth, Michigan, the new home of U.S.A. Hockey's development program. The Americans' absence would be a damaging public relations blow to U.S.A. Hockey, the sport's national governing body. …
Reprinted from The Washington Post by Stephen Whyno on March 16, 2017.
USA Hockey set a Thursday deadline for members of the women's national team to decide whether they will play in the world championships after they threatened to boycott the tournament because of a wage dispute.
The organization has told players they have until 5 p.m. EDT to decide, USA Hockey spokesman Dave Fischer said. The tournament begins March 31 in Plymouth, Michigan, with training camp set to begin next week. The US is the defending gold medalist.
The deadline comes one day after the team announced it would boycott the tournament, citing a lack of progress in getting a labor pact with USA Hockey. They are seeking more pay and a four-year deal. …