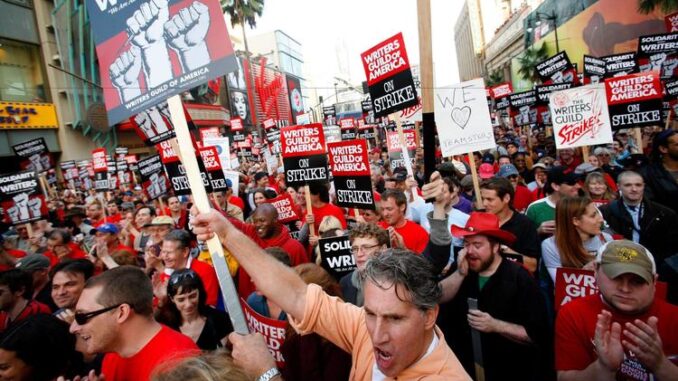 Reprinted from The Los Angeles Times by David Ng on April 1, 2017.
"A decade ago, Hollywood writers brought the entertainment industry to a standstill when they walked off the job for three months in a dispute over pay for movies and TV shows distributed online," writes David Ng in The Los Angeles Times.  "The strike halted dozens of TV and movie productions and sent shock waves through the Los Angeles economy.
"Now, the Hollywood community is feeling a sense of déjà vu as the possibility of another strike looms large. After the collapse of talks with the major studios, the Writers Guild of America is seeking a strike authorization vote from members. While the union has until May 1 to reach an agreement, tensions are as high as they've been in years, say people close to the negotiations not authorized to comment.
"The charged atmosphere is the result of a perfect storm of economic and digital changes bearing down on the business. Since the last writers strike, the industry has seen far-reaching shifts. Streaming services like Netflix and Amazon have transformed Hollywood and contributed to an unprecedented number of quality series being produced — a phenomenon often described as the new Golden Age of TV. …
"'It's divided in half,' said Tim O'Donnell, a TV writer-producer and director who has served on the WGA West board and negotiating committee. 'The more experienced writers — who lived through the [2007-8] strike — are very skeptical about doing that again. Writers who have come into the guild and business since then look at the needs that writers have and say, 'if we can't get this, we ought to strike.'' …