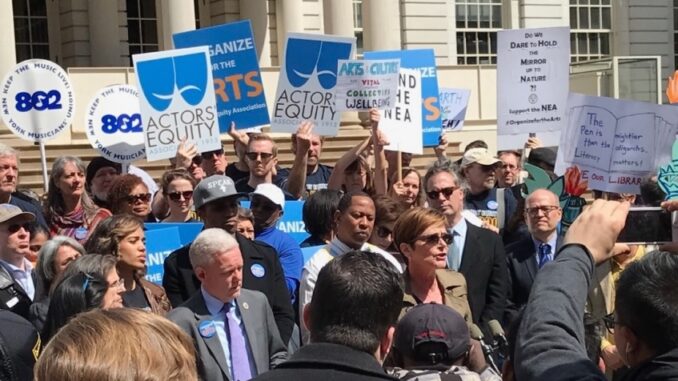 Reprinted from In These Times by Bruce Vail on April 13, 2017.
"If President Donald Trump is serious about creating jobs in the nation's heartland then he needs to rethink his own proposal to eliminate federal funding for the National Endowment for the Arts (NEA), the agency that helps fund the not-for-profit groups behind thousands of the theater and music productions seen every year in middle America," writes Bruce Vail in In These Times.
"That's the analysis of leaders of the labor unions Actors' Equity and American Federation of Musicians, two organizations that could see employment among their members crippled if the cuts in Trump's so-called 'skinny budget' are enacted into law. The current NEA annual budget of $148 million is small but important, they say.
"Mary McColl, executive director of Actors' Equity, which represents more than 50,000 stage actors and stage managers, says that most members work in non-profit organizations, outside of the commercial entertainment capitals of New York and Los Angeles. They don't rely exclusively on NEA funding for their paychecks, she says, but the NEA is critical in the mix of public and private funding that keeps live theater performances coming year after year in the country's smaller cities. …