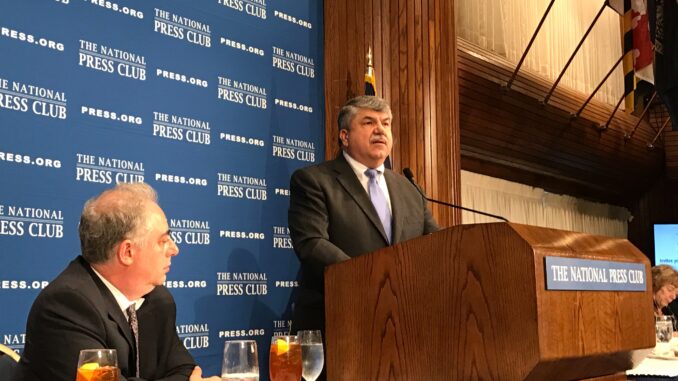 Reprinted from the AFL-CIO blog Now by Kenneth Quinnell on April 4, 2017. 
Tuesday, AFL-CIO President Richard Trumka gave a major address before the National Press Club, calling upon leaders of both parties to not only pursue an agenda that benefits working people across the country, but that strengthens the right of every American to negotiate for better wages and benefits. He described the choice we face as a country:
Republicans, and too many Democrats, have rigged our economy to enrich a select few at the expense of everyday, hardworking Americans. It has been a direct assault on our deeply held national values of unity, justice and broad opportunity. It's been done under the guise of creating jobs and justified by a fanatical economic theory that seeks to remove or destroy anything seen as a barrier to the free market, including unions.

We see it in our trade deals that create special rights for corporations. We see it in our health care system that is a windfall for insurance companies and a complicated, unaffordable mess for patients and families. We see it in our financial sector that has become the master, not the servant, of the real economy. …
Reprinted from The Hill by Tim Devaney on April 4, 2017.
President Trump pulled a "switcheroozy" on working-class voters after the 2016 election, the nation's top labor leader said Tuesday.
The president campaigned on the promise of helping workers find high-paying jobs. But AFL-CIO President Richard Trumka told reporters that Trump's failed attempt to repeal ObamaCare would've hurt many of the same working-class voters who helped elect him.
The labor boss also criticized moves by Trump to roll back health and safety protections for workers during a speech to the National Press Club.
"If you pull a bait-and-switch on working people, if you say that you're with us and then attack us, you're going to fail," Trumka said. …
Reprinted from The San Francisco Chronicle by the Associated Press on April 4, 2017.
AFL-CIO President Richard Trumka said Tuesday that President Donald Trump is in danger of letting a wealthy faction of his administration "hijack" the pro-worker agenda he's promised.
"President Trump needs to decide who he stands with. The coal miners, farmers, steelworkers and other regular Americans who he promised to help in the campaign, or the Wall Street tycoons who are rigging the economy at our expense," Trumka said at the National Press Club. "That decision will be the single greatest test and the most defining thing in his presidency."
Trumka spoke moments after the president finished a speech across town to members of the building trade unions with whom he has a relationship as a real estate magnate. There, Trump repeated his pledge to urge people to "buy American and hire American." But Trumka, whose federation includes construction trades among others, said he wishes Trump "would talk to more workers." …