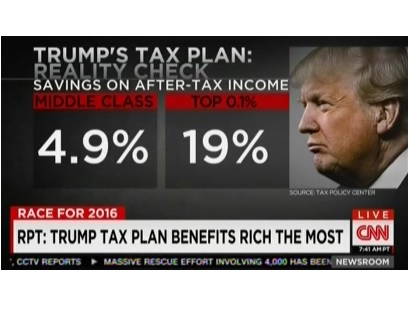 Reprinted from The AFL-CIO blog Now by its staff on April 24, 2017.
President Donald Trump is working on a new tax plan. Reports suggest that Trump wants to cut the corporate tax rate to 15%. That proposal could have serious long-term consequences for the United States—estimates show this will reduce revenue by $2.4 trillion in the first decade—and it amounts to little more than a massive giveaway to big corporations. Trump proposed the same tax cut for big corporations during the presidential campaign, as part of a larger tax plan that also included tax giveaways for the wealthy at a total cost of $7.2 trillion. We'll have to wait to see what the details of the plan are, but it's important that any tax plan help working people.
This is what a plan that actually works for working people would look like:
Big corporations and the wealthy must pay their fair share of taxes: Our rigged and broken tax system lets big corporations and the wealthy avoid paying their fair share of taxes, sticking the rest of us with the tab. Any tax reform proposal must not cut taxes for big corporations or the wealthy. On the contrary, tax reform should restore taxes on the wealthiest estates and tax the income of investors as much as the income of working people. It's imperative that tax reform make our tax system more progressive than it is now. Big corporations and the wealthy must pay more in taxes than they pay now, so we can build an economy that works for all of us. …
Reprinted from The Economic Policy Institute by Josh Bivens and Hunter Blair on April 26, 2017.
Wednesday, President Trump is set to unveil a proposal that serves as his opening bid for the upcoming debate over tax "reform." Unsurprisingly, the president is proposing straightforward tax cuts for the rich, which will need to be temporary because they will increase the federal budget deficit. It's being reported that the centerpiece of the proposal is a cut to the rate faced by both corporations and "pass-throughs" to 15 percent, accompanied by the claim that the tax cuts will pay for themselves ("pass-throughs" are businesses that pay no direct taxes but whose owners pay individual taxes on the dividends and other income they receive from the business). There are three important things to note about these proposed changes.
First, they would clearly be a windfall to already-rich households. The incidence of corporate tax cuts falls disproportionately on owners of businesses and other capital, and this type of income is incredibly concentrated at the top, with the top 1 percent alone claiming 53 percent of it in 2013.
Second, these tax cuts will not trickle down. There is simply no payoff to low- and middle-income families from cutting the corporate tax rate. …