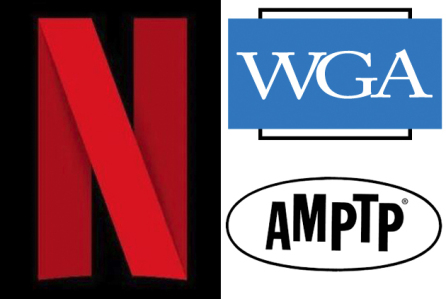 Reprinted from Deadline Hollywood by Dominic Patten on April 24, 2017.
With the result of the WGA's strike-authorization vote expected Monday, those binge-ing on the hope of a rumored Netflix side deal with writers if picket lines go up next week should chill out: it ain't happening.
"So f*cking unlikely," one source close to the situation said bluntly of the streaming service seeking an agreement of its own, or swooping in to play honest broker, if there is a strike on May 2. Hoping to quell rumors, WGA and AMPTP insiders on both sides of the negotiating table also insist that such a scenario is at best an uninformed false hope. In a rare case of agreement, reps for both the scribes and the producers term the Netflix rumors at worst a "dangerous," to quote one guild source, distraction from the high-stakes labor precipice on which Hollywood finds itself.
That throws cold water on the rumor that has become more than a whisper in some circles of what would be a seismic shift in industry labor relations if Netflix or Amazon were to rearrange the rules of the game. While Netflix, like Amazon, is not a signatory to the current three-year film and TV contract, the streamer adheres to the deal's rates and requirements.
Studio bosses and WGA leadership have been back-channeling during the latest break in talks that went into effect last week. But hopes of those conversations breaking the current logjam with the AMPTP are faint, as the intention was mainly to lay pipe for more direct communications if required as things barrel towards a strike in the next week. …