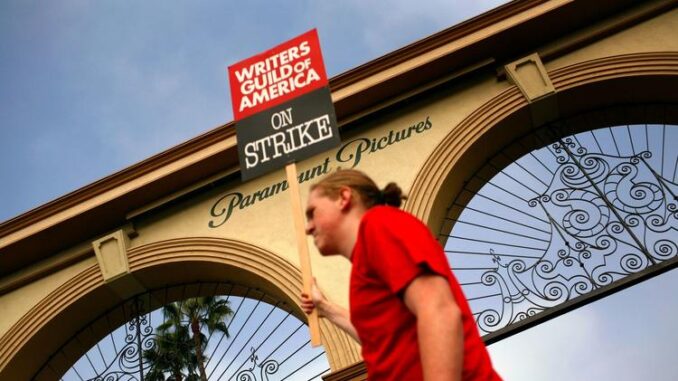 Reprinted from The Los Angeles Times by John Eisendrath on April 21, 2017.
"[Friday] I voted to authorize the leaders of my union to call a strike that I desperately don't want," writes John Eisendrath in The Los Angeles Times. "The result of the vote will be announced Monday, but the outcome was never in doubt: Hollywood writers will give our negotiators the power to call a second strike in ten years if they can't agree on a new deal with producers before the Writers Guild of America contract expires May 1.
"I've gone on strike twice. During the last one, in 2007 and 2008, my wife and I — like so many other writers — were both fired. In our community, the financial and emotional scars remain fresh, which is why no one I know wants a work stoppage, including our negotiating team, who are thoughtful, restrained and reasonable. Too reasonable, in my view. I'm sure the producers think the guild is asking for too much. I think they're asking for too little.
"Thanks to the Clinton administration, wages paid to Hollywood writers have been stagnant for a generation. Bill Clinton overturned rules preventing studios from owning TV networks. The rules promoted competition by preventing vertical integration. As soon as they were gone, the studios gobbled up the networks, killing independent production companies that competed for writers. Corporate consolidation has been great for corporate profits — the six major conglomerates reported $51 billion in profits in 2016 — but no so great for labor. In the past two years, the average salary for a TV writer-producer has declined 23%, according to the WGA. …