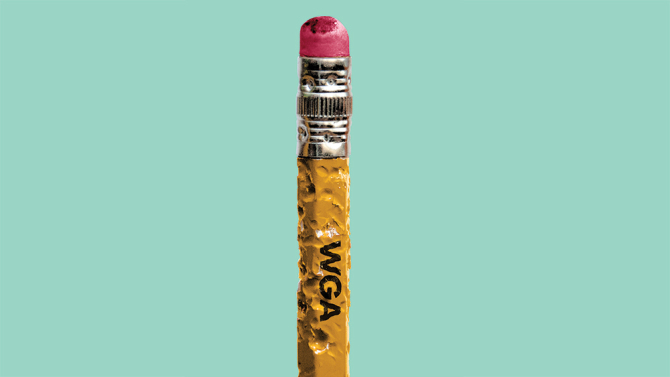 Reprinted from The Hollywood Reporter by Jonathan Handel on April 28, 2017.
Strike odds are 50-50, observers say, but walkout or not, SAG-AFTRA — which supports the WGA — will begin bargaining next month.
With talks between the Writers Guild and AMPTP studio alliance scheduled to continue Friday, progress since bargaining resumed Tuesday has been tentative and uncertain. However, the WGA has made proposals on a number of open issues and management is likely planning to respond, but further details were unavailable.
With the contract expiring Monday night (Tuesday 12:01 a.m.), it's likely the parties will meet over the weekend in an attempt to avert a walkout. A strike is still very much a possibility, but so is a deal.
Meanwhile, The Hollywood Reporter has learned that SAG-AFTRA's negotiations with the AMPTP are set to start in mid-May, in advance of a June 30 contract expiration. That scheduling could be awkward if the writers strike, with SAG-AFTRA negotiating while its sister guild pounds the pavement — perhaps even including the pavement outside the bargaining rooms at the Sherman Oaks headquarters of the AMPTP, the Alliance of Motion Picture and Television Producers.
SAG-AFTRA, the WGA and AMPTP had no comment. …
'A Firm Stance is Required,' says 'The Office' TV Writer Mike Schur
Reprinted from The Los Angeles Times by Jeffrey Fleishman on April 28, 2017.
Mike Schur, whose credits include "The Office," "Parks and Recreation" and creator of NBC's "The Good Place," answered a few questions regarding a possible strike, the Internet and the writing life in Hollywood.
Would you explain why you do or do not support a strike?
"I support, unconditionally, reasonable demands made by any labor force in America. The fact that the management in this case has done so absurdly well in the last 15 or so years only makes the support that much easier. Like many writers, especially comedy writers, I tend to be conflict averse. But when the requests are so plainly justifiable, a firm stance is required, for the future health of the union and the industry as a whole. …