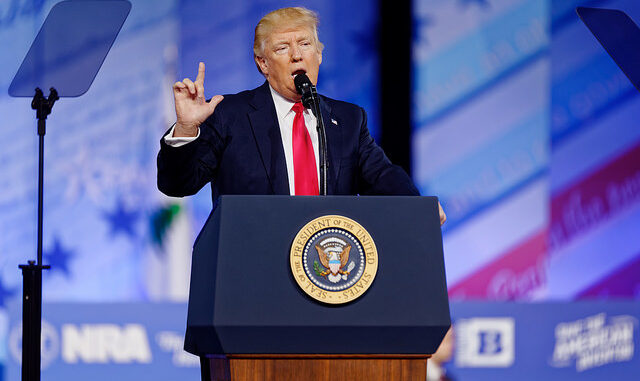 Reprinted from In These Times by Kali Holloway on April 5, 2017.
"Again and again on the campaign trail, Donald Trump made promises he couldn't keep, playing on the ignorance of his base and revealing his own glaring misunderstanding of policy," writes Kali Holloway in In These Times. "The GOP candidate repeatedly vowed to strongarm companies into keeping jobs at home instead of sending them to Mexico, renegotiate NAFTA and impose stiff import taxes on foreign goods. It was a message that appealed widely to Trump supporters, blending the illusion of economic hope with the rubric of 'America First' nationalism.
"Problem is, nothing about Trump's vision has anything to do with reality, and U.S. jobs continue to be sent across the border.
"As Bloomberg reports:
"'Illinois Tool Works Inc. will close an auto-parts plant in Mazon, Illinois, this month and head to Ciudad Juarez. Triumph Group Inc. is reducing the Spokane, Washington, workforce that makes fiber-composite parts for Boeing Company aircraft and moving production to Zacatecas and Baja California. TE Connectivity Ltd. is shuttering a pressure-sensor plant in Pennsauken, New Jersey, in favor of a facility in Hermosillo.'
"Those companies aren't alone. Indianapolis-based firm Rexnord is moving 300 jobs to Monterrey, Mexico, despite a December tweet by Trump meant to shame the company into staying. That company is located just up the road from Carrier, the air conditioning manufacturer Trump falsely claimed to have bribed into keeping 1,100 jobs in its home state. Like nearly every victory claimed by the president, it too was a lie. As CNN Money notes, only 800 factory jobs were saved while 500 are still being shifted south. …