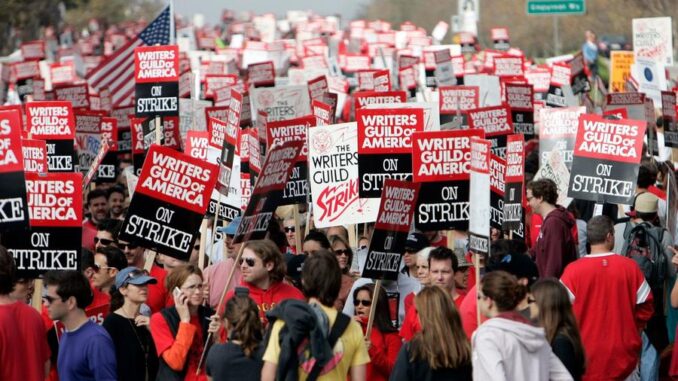 Reprinted from The Los Angeles Times by David Ng on April 26, 2017.
"Ready or not, Hollywood may be thrust into another writers' strike in less than a week," writes David Ng in The Los Angeles Times. …
Writers contend that their economic fortunes have declined in recent years as they face shorter seasons with fewer episodes. Once upon a time, a typical network show consisted of 22 to 24 episodes per season. Now that number has dropped to 15 or fewer. For cable and streaming, the number of episodes per season is frequently 10 or fewer.
Since writers are paid per episode, take-home pay is dropping. To complicate matters, episodes are taking longer to shoot as TV shows become more cinematic, especially in the cable and streaming spheres. Writers' pay is being amortized over longer periods of time, effectively lowering their per-week pay.
In the past, writers could count on residual payments from reruns and syndication to see them through tough financial periods. But those markets are shrinking, and the residuals from streaming are far below those of traditional TV. …
If the two sides fail to make progress in the days ahead, they could bring in a federal mediator, which could delay a strike past the May 1 deadline. Mediators are often called in to help the two sides resolve their differences. …