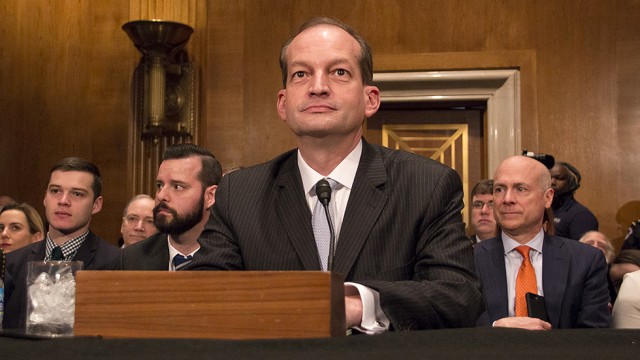 Reprinted from The New York Times by the Associated Press on April 28, 2017.
Alex Acosta has been confirmed as the nation's new labor secretary, filling out President Donald Trump's Cabinet as he approaches his 100th day in office.
A 60-38 vote by the Senate on Thursday confirmed Acosta to the post. Vice President Mike Pence is expected to swear in Acosta on Friday. Acosta, the son of Cuban immigrants, will be the nation's 27th labor secretary, leading a sprawling agency that enforces more than 180 federal laws covering about 10 million employers and 125 million workers.
Senator Tim Scott, R-South Carolina, spoke for many Republicans with a statement issued just after the vote saying he hopes Acosta's focus will be "promoting labor policies that are free of unnecessarily burdensome federal regulations." Scott said he wants Acosta to permanently revoke rules governing financial advisers and adding Americans eligible for overtime pay.
Democrats said any labor secretary should advocate for the American workers to whom Trump promised so much during his upstart presidential campaign. They said Acosta has given no such commitment. …