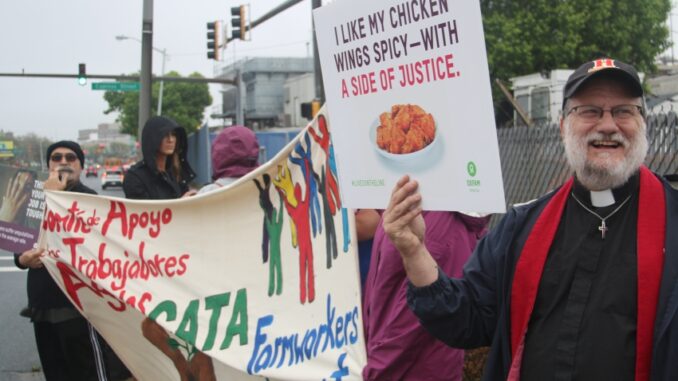 Reprinted from In These Times by Bruce Vail on April 28, 2017.
"A consumer pressure campaign against labor abuses in the chicken-processing industry has produced some initial results, with a detailed pledge this week from Tyson Foods to build a better workplace for its 95,000 employees," writes Bruce Vail in In These Times.
"The campaign, led by the famed hunger-fighting group Oxfam America, is challenging Tyson and three other large chicken producers to improve on their collective record of chronic worker safety problems, poverty-level wages and anti-union attitudes. It was launched in late 2015 with the help of a coalition of like-minded groups, including the United Food and Commercial Workers (UFCW) union. Tyson's pledge is the campaign's first visible success.
"An announcement from Tyson executive Noel White carefully avoided the language of labor rights and emphasized, instead, 'investing in sustainability … to create a beneficial cycle of contributing to the future.' Nevertheless, the pledge promises some real improvements in the lives of workers on the shop floor …