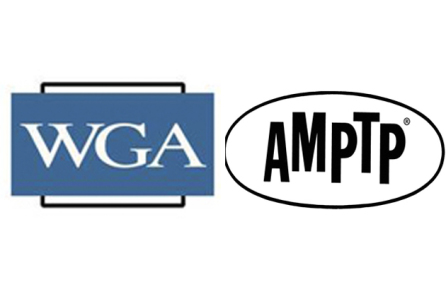 Reprinted from Deadline Hollywood by David Robb and Dominic Patten on April 17, 2017.
Negotiations for a new WGA film and TV contract have recessed for another week, and will resume next Tuesday. "The WGA and the AMPTP have agreed to resume negotiations on Tuesday, April 25, 2017," they said in a joint statement Monday.
This marks the second break in negotiations since contract talks began March 13, which stalled after two weeks with each side accusing the other of walking away from the bargaining table. Talks resumed last Monday, and recessed again for the Good Friday holiday.
A source close to the talks told Deadline late last week that "things were not going well" and there were a lot of "recrimination" across the table. …
Reprinted from Deadline Hollywood by David Robb on April 19, 2017.
The WGA's march toward strike authorization continued Wednesday night at the Beverly Hilton, where hundreds of writers gathered to voice their support for their leaders' bargaining position. As was the case at Tuesday night's meeting, it appears that nearly everyone in attendance stands ready to strike if they don't get a fair deal.
If it comes to that, a strike can't start until midnight May 1, when the guild's current film and TV contract expires. But a work stoppage can still be averted if the two sides can reach an agreement when they return to the bargaining table next week after a second two-week hiatus.
But first, the members have to authorize a strike, which could then be called by the negotiating committee in conjunction with the WGA West board and WGA East council. Membership approval of strike authorization is all but certain, as guild leaders have warned membership that rejecting it would be tantamount to surrender. …
Reprinted from Deadline Hollywood by David Robb April 18, 2017.
The first votes were cast Tuesday night to authorize the first writers' strike against the film and TV industry in a decade, and although they won't be counted until next Monday, it now appears all but certain that members of the WGA East and West will give their leaders the authority to call a strike if next week's last-ditch contract talks fail to produce a fair agreement.
The votes were cast at a special membership meeting at the Universal Sheraton Hotel, and similar meetings will be held Wednesday in Los Angeles and New York. Online voting also begins tomorrow.