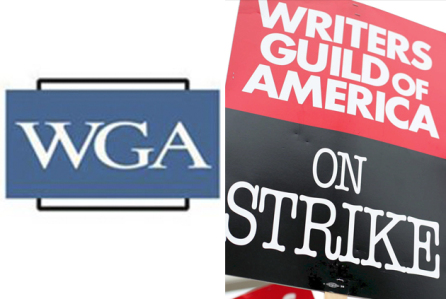 Reprinted from Deadline Hollywood by David Robb on April 24, 2017.
Film and TV writers are ready to take to the picket line next week, voting overwhelmingly to give their union leaders the authority to call a strike if this week's final round of bargaining fails to produce a contract.
"We thank you for your resolve and your faith in us as your representatives," the 2017 negotiating committee said in a statement today accompanying the vote results. "We are determined to achieve a fair contract. Talks will resume tomorrow."
A strike can still be averted if the WGA and management's Alliance of Motion Picture & Television Producers can work out a deal this week. The talks, which took a two-week hiatus to allow the WGA East and WGA West to poll their members on strike authorization, resume tomorrow and are expected to continue throughout the week and possibly into the weekend, if necessary. It's also possible the strike deadline could be extended if the two sides think they're close to a deal. …
Reprinted from The New York Times by Brooks Barnes on April 24, 2017.
Unions representing 12,000 Hollywood writers said on Monday that members had overwhelmingly voted to authorize a strike, bringing show business closer to its first production shutdown in a decade.
Leaders of the Writers Guild of America, East, and the Writers Guild of America, West, announced the results of an online strike authorization vote in an email to members. The unions said that 6,310 eligible members voted; 96 percent of the vote was in favor of a strike.
A three-year contract between the guilds and the Alliance of Motion Picture and Television Producers, which represents the makers of films and TV series, expires at midnight on May 1. Negotiators were set to resume talks on Tuesday, with funding of a failing union health care plan a sticking point. …
"There's a wild disparity between what writers are paid and the profits that are generated from their work," Howard Rodman, president of the West guild, said in an interview this month. "If you look at the budgets of television shows, the part allotted for writing is generally 2 percent. That strikes me as a very small amount given the importance of writing to the enterprise." …