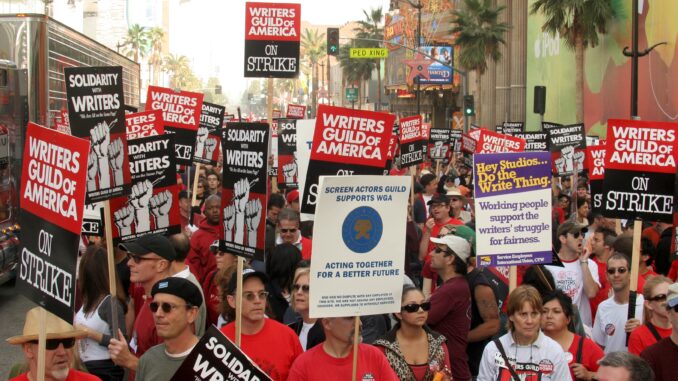 Reprinted from Deadline Hollywood by David Robb on April 26, 2017.
With only six days to go before film and TV writers could launch their second strike in a decade, labor and management still strongly disagree over the impact of the last strike – a troubling sign that could indicate the two sides aren't seeing eye-to-eye about the WGA's willingness to strike again this time.
On Monday, after WGA leaders received overwhelming support from their members for strike authorization, the AMPTP said the last strike cost writers "more than $287 million in compensation that was never recovered." It's a claim WGA leaders hotly dispute.
WGA West VP David Goodman, an ex officio member of the guild's negotiating committee, has said that "our greatest recent success is the 2007-08 strike." It's an opinion shared by many, if not all, of the guild's leaders, because that 100-day walkout won jurisdiction over shows made for new media like Netflix and Amazon that are now flourishing in the era of Peak TV.
The AMPTP arrived at that $287 million figure by dividing the total wages of film and TV writers in the year before the last strike began – more than $1 billion – by 365 (the number of days in a year) and multiplying that by 100 (the number of days the strike of 2007-2008 lasted): $1 billion ÷ 365 x 100 = $287 million.
However, that calculation fails to recognize that writers saw a major spike in earnings in the months leading up to the last strike as producers rushed to get scripts finished before the strike deadline. …
The two sides continue negotiating [Wednesday] on a new film/TV contract. The current agreement expires May 1 at midnight PT.