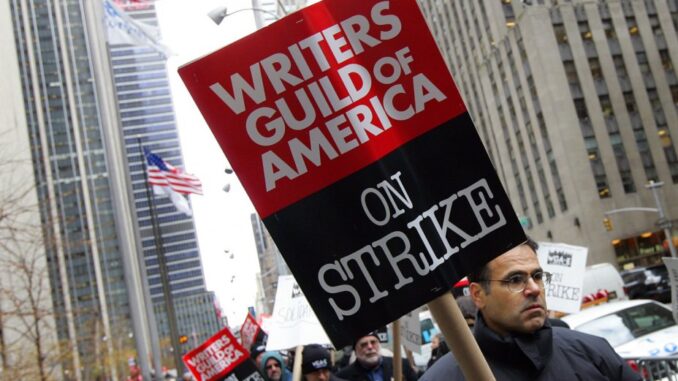 Reprinted from The Hollywood Reporter by Jonathan Handel on April 5, 2017.
In a letter to media buyers, the guild says it is seeking a $178 million per year deal and warns it will strike as soon as the current contract expires if no agreement is reached.
The Writers Guild of America for the first time has explicitly said it will indeed strike this year if its current contract expires May 1 without a renewed deal in place with the Alliance of Motion Picture and Television Producers. The statement appears likely to escalate tensions over the possibility of a walkout.
"In the event that we are unable to negotiate a new contract with the AMPTP, a work stoppage will begin May 2nd," said the guild in a letter sent Tuesday to media buyers. "Should this occur, writing for television, feature films and digital series will cease."
Five days of negotiations are scheduled to begin Monday. WGA member meetings and an online strike authorization vote are set for April 18-24, which would then leave just a few days until contract expiration. (The Guild leadership doesn't have the power to call a strike unless it prevails in the strike authorization balloting, but that result is virtually assured.) …
Reprinted from Deadline Hollywood by David Robb on April 7, 2017.
With negotiations set to resume on Monday for a new WGA film and TV contract – and strike authorization voting set to begin April 18 – the run-up to what could become the first industry-wide strike in a decade has its roots in the last strike, and the September 2015 election that brought the WGA West's current leaders to power.
.
"Soon," wrote the WGA west to its membership, "we'll be conducting a series of member-outreach meetings to discuss our goals in the next negotiation; our current contract ends on May 1, 2017. But please know this: those goals are both reasonable and attainable. A mere fraction of one percent of the companies' profits – profits largely attributable to the content created by you and your fellow WGA members – would easily restore writer income to an appropriate level and move our benefit plans – health and pension – to a more secure position. Getting our fair share of it will require resolve and solidarity. But in a time of unprecedented profits for our industry, we believe it is our due." …