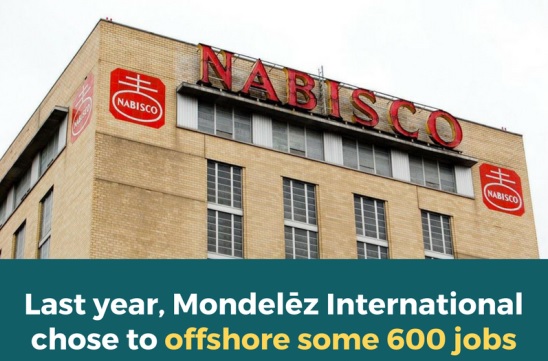 Reprinted from the AFL-CIO blog Now on May 9, 2017. Attributed to BTGM.
Avoiding corporate income taxes is one way CEOs boost their companies' profits and thereby increase their own pay. This corporate tax avoidance reduces the amount of money that is available for public goods like roads and schools. As a result, our economy increasingly has become out of balance.
BCTGM (Bakery, Confectionery, Tobacco Workers and Grain Millers) Local 300 member and laid off Nabisco/Mondelēz worker is highlighted on the AFL-CIO's 2017 PayWatch site as an example of the human cost of offshoring jobs.
Mondelēz International, highlighted in this year's PayWatch, represents one of the most egregious examples of CEO-to-worker pay inequality. The company, which makes Nabisco products, including Oreos, Chips Ahoy and Ritz Crackers, is leading the race to the bottom. Last year, it closed the Oreo cookie line at the iconic Nabisco factory in Chicago, sending 600 family-sustaining jobs to Mexico, where workers face poor labor and safety standards. Mondelēz CEO Irene Rosenfeld made more than $16.7 million in 2016 – about $8,000 per hour. …