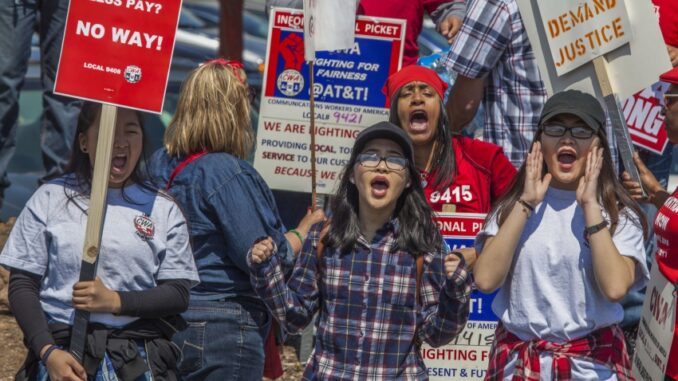 Reprinted from The Los Angeles Times by Meg James on May 19, 2017.
Frustrated by a lack of progress in contract talks, more than 17,000 AT&T union members in California and Nevada walked off their jobs on Friday.
The Communications Workers of America called a three-day strike to protest the nearly 13-month period that AT&T workers in California and Nevada have been without a contract. About 37,000 workers nationwide — as much as 14% of AT&T's workforce — are expected to join in the weekend strike.
Workers are expected to return to work on Monday.
"We are fighting for good family-supporting jobs," Bob Master, an assistant to the vice president of CWA District 1 in New York, said Friday. "We don't think the company realizes just how angry and upset their workers are." …
Reprinted from the AFL-CIO's blog Now by Kenneth Quinnell on May 19, 2017.
Some 40,000 working people at AT&T announced they were going on strike. After months at the bargaining table, the employees haven't been able to win a fair union contract. AT&T's leaders seem dead set on lining their own pockets at the expense of workers making them billions.
The strike includes 21,000 retail and call center workers employed by AT&T Wireless across the country (in 36 states and Washington, D.C.), and 19,000 AT&T West and DIRECTV employees in California, Nevada and Connecticut. This is the first time AT&T wireless workers have gone on strike, which could result in closed retail stores this weekend, and may be the largest strike of retail workers at a national company is U.S. history. The workers plan to return to work on Monday.
Show your support for the striking workers at an AT&T retail store this weekend. Find a location near you and RSVP. If you can't join a picket line, send an email to AT&T CEO Randall Stephenson saying you stand with working people fighting for good jobs. …