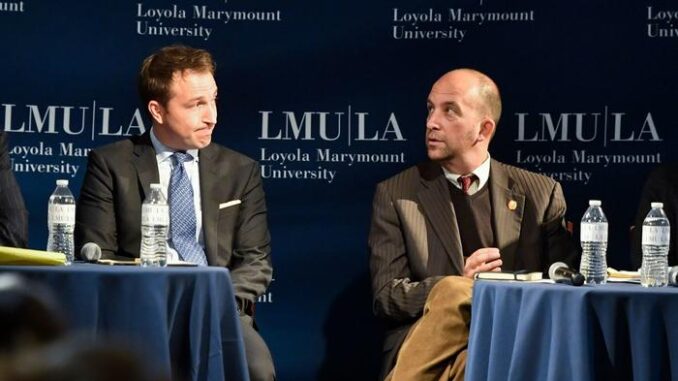 Reprinted from The Los Angeles Times by Howard Blume and Anna Phillips on May 17, 2017.
The Los Angeles Unified School District appeared to have undergone a major political shift Tuesday night, as the curtain dropped on what has been the most expensive school board election in the nation's history.
Less than two hours after polls closed, with many ballots left to be counted, the president of the school board, Steve Zimmer, conceded the race. Addressing a crowd of supporters, Zimmer called his loss to candidate Nick Melvoin "devastating" and vowed never to run for office again. In a sign of how deeply polarizing this election has been, and how difficult it will be to forge consensus in the weeks and months to come, Zimmer said he would not call Melvoin.
"I may have lost an election … but my soul is intact," he said. Of his opponent's supporters, he added darkly: "They know what they did."
From the moment the candidates filed to run for the Los Angeles Board of Education, the election has been a proxy war between wealthy charter school advocates and public employee unions. Charter supporters seemed poised early Wednesday morning to secure their first-ever majority on the seven-member Los Angeles Board of Education. …
Reprinted from The Hill by Jonathan Pelto on May 18, 2017.
"Driven by record spending in a board of education election, two strongly pro-charter school board candidates swept to victory in the Los Angeles school board election of May 16, 2017," writes Jonathan Pelto in The Hill.
"Charter school advocate and political newcomer Nicholas Melvoin beat incumbent school board president Steve Zimmer, by a six point margin. Charter school teacher Kelly Fitzpatrick-Nonez beat Imelda Padilla, in a much closer race.
"The victory is a significant accomplishment for the corporate education reform movement and means that the charter school industry and their allies will now have majority control of the board overseeing the Los Angeles school system. …