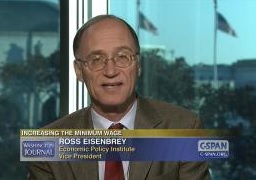 Reprinted from The Economic Policy Institute by Ross Eisenbrey May 23, 2017.
"One year ago, the US Department of Labor issued a final rule to update the Fair Labor Standards Act's overtime rules," writes Ross Eisenbrey for The Economic Policy Institute. "The old rules—written by the Bush administration in 2004—have a loophole that leaves millions of salaried employees without the right to overtime pay (and even without the right to be paid the minimum wage). An employer may legally require salaried employees earning as little as $23,660 a year to work 70 or 80 hours a week with no additional pay. If an employer determines that a salaried employee works in an 'executive, professional, or administrative capacity' the employee's effective hourly pay could fall below $6.00 an hour.
"If the new rule had taken effect on December 1, 2016, as planned, 4 million employees would have become entitled to overtime pay and another 9 million would have had their right to overtime pay strengthened and clarified. In 2017 alone, workers would have gotten $1.2 billion in extra pay.
"But Republican politicians and big business groups sued to block the rule, and a U.S. District Court judge in Texas blocked the rule from taking effect, not just in Texas, but nationwide. Obama's Department of Labor appealed the case, but the Trump administration has repeatedly delayed the appeal while it figures out whether to side with the employees or with big business. …