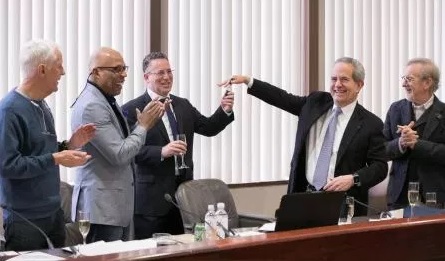 Reprinted from Deadline Hollywood by David Robb on May 8, 2017.
Russ Hollander has taken over as the DGA's national executive director, officially ending the Jay Roth era. Hollander's appointment, which was first reported here in February, was made official at the DGA's national board meeting Saturday. Roth will stay on as a senior adviser after 22 years as the guild's top executive.
Roth and Hollander have been working together in recent months with the DGA's national board, councils and senior executive staff to ensure a seamless transition. In his new role, Roth will remain as a trustee of the DGA Pension and Health Plans, and will continue to oversee the guild's research department.
"I'm honored to have been selected to lead our guild into the future," Hollander said. "For over 15 years, I have been part of our leadership team that has accomplished so much together and am proud to continue the 80-year tradition that's made it all possible – a strong partnership between our elected leaders and staff. I thank our board for their confidence. And I thank Jay, my mentor, for building the template for success in advancing the creative and economic rights of directors and their teams. In a world where most labor unions are shrinking – our membership has nearly doubled, and the DGA's position in our industry has grown more powerful than ever under his guidance over the past two decades. I look forward to building on that momentum." …