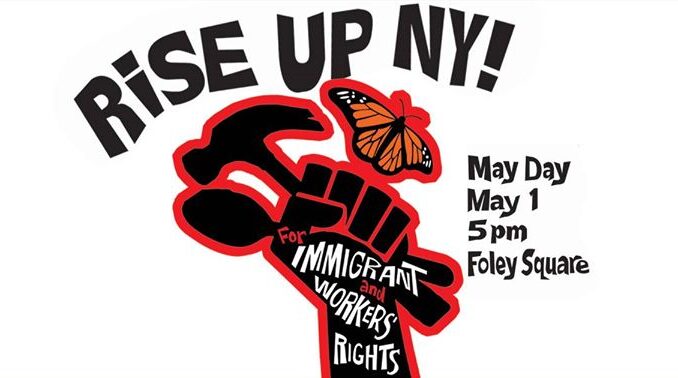 Reprinted from Deadline Hollywood by David Robb on May 1, 2017.
In what could be a preview of a threatened writers strike, WGA East members will be taking to the streets Monday in New York City as part of a nationwide protest against the Trump administration's attacks on organized labor.
"Workers' rights are under attack," the guild says on its website. "We are standing up and fighting back! Join WGAE members and allies at the May Day rally. Wear your WGAE shirts or hats!"
Today's May Day protests are expected to draw huge crowds in cities nationwide. Other entertainment industry unions taking part include Hollywood's Teamsters Local 399, Hollywood's Musicians Union Local 47, various IATSE locals, and the Hawaii local of SAG-AFTRA. In Los Angeles, the International Workers' Rights Day March: Shut it Down Los Angeles, will begin with an 11 AM rally at MacArthur Park, followed by a march to City Hall. …
Reprinted from Variety by Valentina Valentini on May 1, 2017.
As Hollywood writers decide whether to go on strike, the Writers Guild of America was among more than 100 groups represented at the May Day march Monday in Los Angeles. Groups representing a wide swath of labor issues marched from MacArthur Park to Grand Park at Los Angeles City Hall.
Organizers were hoping up to 100,000 marchers would march, but police reports are saying that about 15,000 were present. The first of May is known as International Worker's Day (Labour Day in some countries) and is a celebration of laborers and the working classes throughout the world. In Los Angeles, a strong union town, organized labor and immigration groups have come out to voice their criticism of the current administration and President Donald Trump.
The WGA delegation numbered approximately 50 people, according to some members there. …
Reprinted from The Washington Post by Steve Peoples and Amy Taxin on May 1, 2017.
Thousands of people chanted, picketed and marched on cities across America as May Day demonstrations raged against President Donald Trump's immigration policies.
Police in Oakland, California, arrested at least four activists who chained themselves together to block a county building. More than 100 other activists there demanded an end to what they called a collaboration between county law enforcement and federal immigration agents.
Despite the California clash, the initial rounds of nationwide protests were largely peaceful as immigrants, union members and their allies staged a series of strikes, boycotts and marches to draw attention to the importance of immigrants in the United States. The demonstrations on May Day, celebrated as International Workers' Day, follow similar actions worldwide in which protesters from the Philippines to Paris demanded better working conditions. …