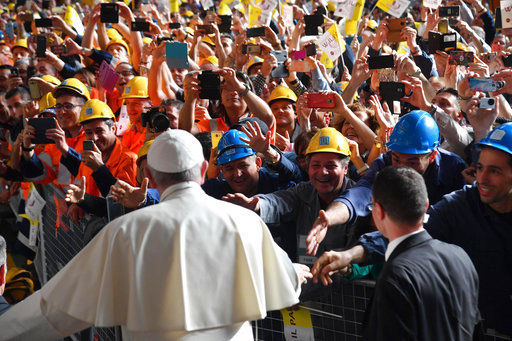 Reprinted from The Washington Post by Vanessa Gera and Antonio Calanni om May 27, 2017.
Pope Francis highlighted the struggles that workers face in a globalized economy with a visit Saturday to a troubled steel factory in Genoa, where he stressed how jobs give people a sense of human dignity and denounced those who exploit workers.
The visit put a focus on the plight of those whose lives have been made precarious by years of economic crisis, including in Italy where a high jobless rate, especially among young adults, has driven many to leave the country.
Speaking to 3,500 industrial workers, many in uniforms or hard hats, Francis distinguished what he called the "real entrepreneur," a person who "shares the labors of workers and shares the joys of work" to create something together, from speculators who are not bothered when they fire workers in search of profits. …