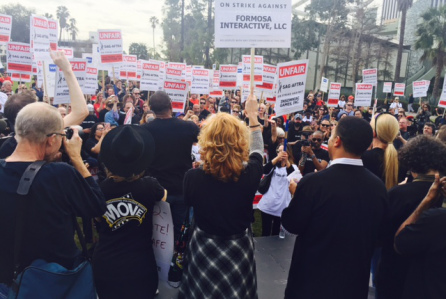 Reprinted from Deadline Hollywood by David Robb on May 1, 2017.
As SAG-AFTRA prepares for its upcoming round of negotiations for a new film and TV contract, it continues to pressure a different set of employers – video game producers – in a labor dispute that is the longest strike in the history of SAG.
Now in its 207th day, the union's strike against 11 video game companies has pitted the companies' desire to maintain a 20-year-old pay structure that includes no forms of residuals against the union's demand for some type of residuals payments. And with more than $30 billion in US sales and $90 billion-plus worldwide, video games are the only major industry sector that doesn't pay residuals.
The strike, however, already has made some small gains in that direction. According to SAG-AFTRA, 20 companies and 30 games have signed agreements the union promulgated in October that that give performers residuals amounting to a full-day's pay for each 500,000 units sold, up to four secondary payments if the game sells 2 million units. According to the unions, "the number of signatories has quadrupled" in the first three months of 2017, "and new deals are being signed every week." …