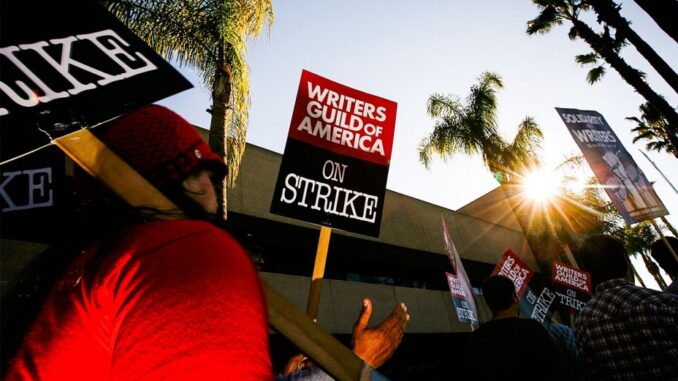 Reprinted from Deadline Hollywood by David Robb on April 30, 2017.
Major moves were made during Sunday's negotiations for a new WGA contract, with the companies now offering the WGA more than they were asking for to bail out the guild's ailing health plan.
A source close to the talks told Deadline the AMPTP is now offering to increase employer contributions to the plan by more than $85 million over three years – up from $60 million in its previous offer.
Another major move came in the area of a new pay formula for writers and writer-producers employed on short-order TV series – an issue that is one of the WGA's main priorities in the talks.
Negotiations have recessed for the evening and will resume Monday morning. The WGA's current film and TV contract expires Monday night at midnight PT.
Reprinted from The Hollywood Reporter by  Jonathan Handel on April 30, 2017.
A walkout at an economic cost of $200 million per week seems increasingly likely — but could still be averted. Meanwhile, a reported memo from the WGA isn't actually from the WGA.
Hollywood moved closer to its first major strike in a decade Sunday, with studio and WGA negotiators scheduled to meet at 2:00 p.m. as the Alliance of Motion Picture and Television Producers presents what may be its last offer in advance of contract expiration less than 36 hours away, The Hollywood Reporter has learned.
It's anticipated that WGA negotiators will then need to caucus privately to consider the offer and may not provide a substantive response to company proposals until Monday, leaving scant hours to go until 12:01 a.m. Tuesday, at which time the guild has said it will walk out if no replacement deal is in place. That doesn't preclude the possibility of an extension, however, if progress is being made. …