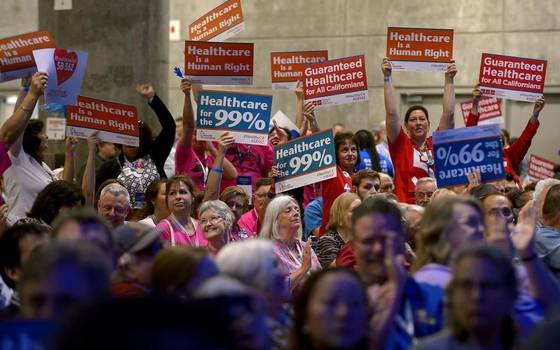 Reprinted from The Sacramento Bee by Dan Walters on May 31, 2017.
… While every legislative session includes a raft of union-sponsored bills, the 2017 session is seeing a particularly strong push by union leaders. They evidently hope that Democratic gains in the 2016 election, coupled with what appears to be a more benevolent attitude by Governor Jerry Brown in the last two years of his governorship, will bear fruit. …
By far the year's most dramatic union campaign is the California Nurses Association-supported legislation (Senate Bill 562 by Senator Ricardo Lara, D-Bell Gardens) to create a single-payer health care system costing an estimated $400 billion a year.
The nurses say it would improve health care by eliminating provider profits, but it also would give the union opportunities to use its political clout in a state-operated health care system.
A clue to that goal is bill by Lara (SB 349), sponsored by the United Nurses Association of California and other health care unions, to set state-mandated staffing requirements for dialysis clinics that, the clinics say, will drive up costs of treatment.