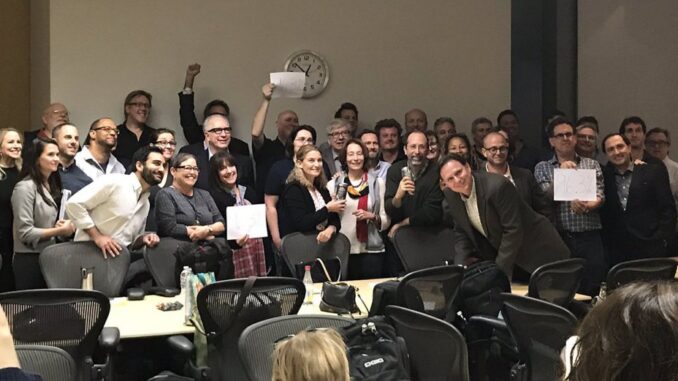 Reprinted from The Hollywood Reporter by Jonathan Handel on May 2, 2017.
The Writers Guild of America achieved a deal Tuesday morning that addresses many issues vexing its members and seemingly vindicated its high-stakes strategy of negotiating down to the wire in a fashion that stretched the nerves of many in the industry.
At a macro level, the guild said it achieved a deal that was $130 million better than the agreement it would have gotten had it simply accepted a deal modeled on the one the Directors Guild of America achieved several months earlier. If true, the DGA may be perturbed. No doubt its leaders will be taking a hard look at the WGA package. So, too, will the SAG-AFTRA leadership, as their negotiations start in two weeks, and if the WGA claim is valid, the actors might be inclined to up their contract demands.
But those observations come with a caveat: It was not immediately possible to determine the validity of the WGA claim, as the guild did not provide figures for the value it ascribed to the DGA deal or for the deal that the writers achieved — whereas as recently as Friday, they had publicly valued their proposal.
However, on an issue-by-issue basis, there is no doubt that the deal addresses most of the panoply of issues the WGA brought to the table. Although the union hasn't released the deal's details, The Hollywood Reporter was able to fill in some of the blanks. …