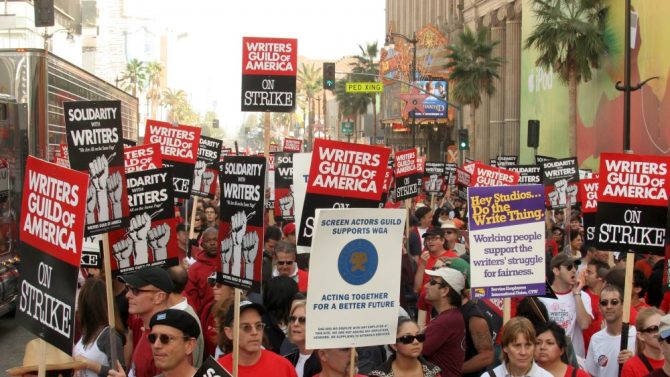 Reprinted from Variety by Dave McNary on May 5, 2017.
The Writers Guild of America has unveiled details of its new three-year contract with production companies — highlighted by an $86 million hike in funds from employers for the guild's troubled health plan.
The guild, in a summary issued Friday to members, also disclosed specifics of how the deal addresses the financial pressures that television writers have encountered when working the same amount of time, or longer, on shows that run 6-13 episodes as they would on a traditional 22- or 24-episode season.
Additionally, the summary also said minimums will increase 2.0% in the first year of the contract, 2.5% in the second year, and 2.5% in the third year. And one of the key provisions, agreed to near the end of the negotiations, included the first-ever parental leave coverage of up to eight weeks.
The tentative agreement was reached early Tuesday morning, averting a strike that could have started that day,  and was then approved Thursday night by both the WGA West board of directors and the WGA East Council. Those approvals have triggered a ratification vote by the 13,000 WGA members. The guild has not disclosed when those ballots will go out nor the deadline for voting. …
Reprinted from The Hollywood Reporter by Jonathan Handel on May 5, 2017.
The WGA West Board and WGA East Council on Thursday night unanimously approved the new deal reached Tuesday with the Alliance of Motion Picture and Television Producers, setting the stage to send the pact to the unions' combined membership for ratification. With no opposition having emerged, membership approval is certain, and the only likely news will be the percentage of Yeas and Nays.
Meanwhile, the guild issued a summary of the deal, which confirms most of The Hollywood Reporter's exclusive summary published two days ago and includes additional details. …