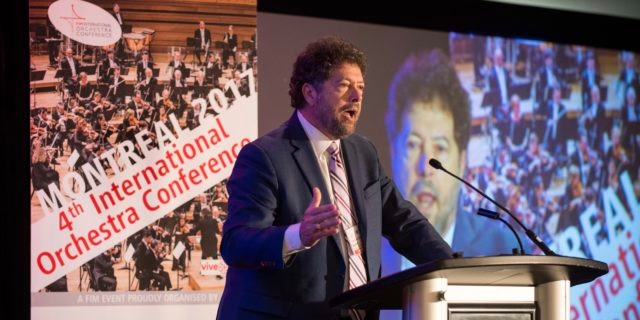 Reprinted from The American Federation of Musicians by Ray Hair on June 2, 2017.
"… From the time we began to organize sound, we eventually understood that strength and harmony came from unity, from aligning ourselves together perfectly as musicians because we are stronger together," said AFM president Ray Hair at the 4th International Orchestra Conference in Montreal.
"Our issues always rest on that greater challenge—how can we achieve fair compensation and fair treatment commensurate with the power of our music?
"What we've struggled with since the beginning—we make all the music, while everybody else makes all the money—is our eternal contest. How can we achieve fairness for what we do? We can get there if we apply the same principle that we live by when we perform as musicians, and if we have the will to do it. The answer is unity. …