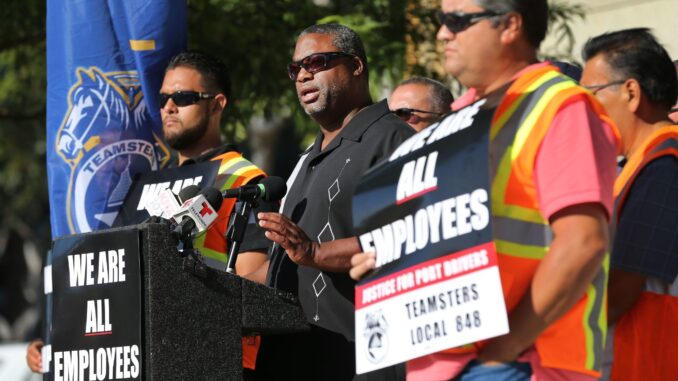 Reprinted from The Los Angeles Times by Jack Flemming on June 19, 2017. 
Shouts of "What do we want? Justice! When do we want it? Now!" rang out as picketers congested the Evegreen yard in San Pedro on Monday, temporarily blocking up to 50 trucks from entering the terminal.
Around 60 truck drivers and warehouse workers serving the Los Angeles and Long Beach ports began striking terminals across the region Monday morning.
The strike was called by the Teamsters union Local 848 to protest what it alleges is illegal subcontracting, misclassification and wage theft by trucking companies.
The workers began to picket at 6 a.m. at XPO Logistics in the City of Commerce, then expanded to Rancho Dominguez and San Diego. Strikers also followed trucks and drivers as they drove to drop-off points in Los Angeles, Long Beach and the Intermodal Container Transfer Facility, the nearby Intermodal Container Transfer Facility, where shipping containers are transferred between trucks and rail cars.
The picketers spread out across six or seven terminals and caused minor traffic delays for trucks coming in and out of the gates, according to Phillip Sanfield, spokesman for the Port of Los Angeles. Sanfield said there was no noticeable impact to cargo flow.
A spokeswoman for XPO said there was no impact on the company's customers.
This is the 15th strike by the port truck drivers in the last four years. The union contends that the workers are misclassified as independent contractors rather than employees, are not paid for all the hours they work and are forced to lease their trucks under abusive terms. …
Reprinted from Freight Waves by Brian Straight on June 19, 2017.
… "We support clean air, but there was no mention on how [a] Clean Air Action Plan would impact the drivers. We are concerned about who will end up paying for it," said Eric Tate, secretary-treasurer of Teamsters Local 848, told NBC 4. "The last time they did this in 2008 with the Clean Truck Program, the corporations ended up passing on the cost to the workers by requiring them to lease a truck in order to get hired and illegally misclassifying them as 'independent contractors,' leaving very little for the workers to take home to their families. We don't want that to happen again."
The misclassification issues remains the underlying concern for the truckers and unions. According to The Press Telegram, there have been 875 claims with the California Department of Labor Standards Enforcement division since 2011 claiming misclassification. In 376 of those cases, the drivers were found to be employees and awarded over $40 million back wages and penalties. There are still over 100 cases pending. Others have been settled out of court. …