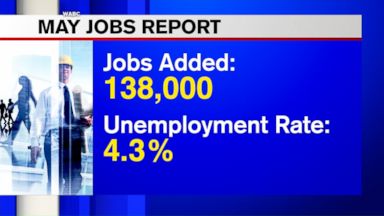 Reprinted from The New York Times by the Associated Press on June 2, 2017.
US employers pulled back on hiring in May by adding only 138,000 jobs, though the gains were enough to help nudge the unemployment rate down to a 16 year-low.
The Labor Department said Friday that the jobless rate fell to 4.3 percent the lowest level since 2001, from 4.4 percent. Still, the rate declined mainly for a less-than-encouraging reason: People stopped looking for work in May and so were no longer counted as unemployed.
The government's report suggested that eight years into the recovery from the Great Recession, job growth may be slowing after a long stretch of robust gains. Besides the hiring slowdown in May, the government on Friday revised down its estimate of job growth in March and April by a combined 66,000. Monthly job gains have averaged 121,000 over the past three months, compared with 181,000 over the past 12 months. …