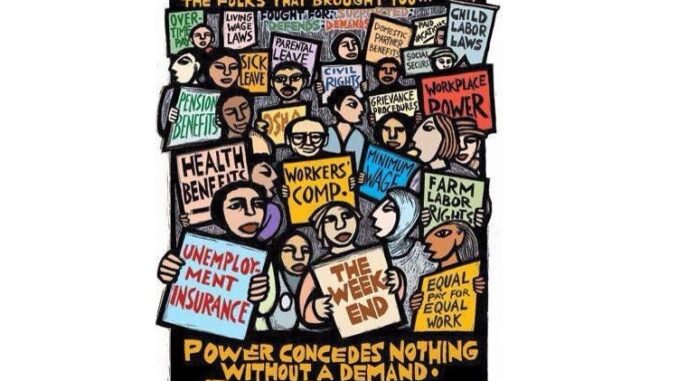 Reprinted from Jacobin by Andrew Tillett-Saks on July 9, 2017.
"In 1980, PATCO leadership infamously chose to grovel to Ronald Reagan, endorsing his presidential run," writes Andrew Tillett-Saks in Jacobin. "Less than a year later, Reagan smashed PATCO and helped jumpstart American labor's precipitous decline.
"Unions in the Trump era face a familiar dilemma: how to grapple with powerful politicians poised to launch broad attacks on the American working class. The stakes of the dilemma are no less than those faced by PATCO under Reagan: unions that give their imprimatur to an anti-union president will soon find that president destroying them and the rest of the labor movement anyway.
"Too often in American history, unions have responded to attacks by narrowing rather than expanding the scope of their fight, abandoning the increasingly massive sea of unorganized workers as well as cross-sector solidarity in an attempt to curry favor with otherwise anti-worker politicians. …
Labor's Legitimacy Crisis Under Trump
Reprinted from Jacobin by Barry Eidlin on July 5, 2017.
"… The early months of the Trump administration have been chaotic, but one thing remains clear: despite Trump's rhetorical appeals to the working class, actual workers and unions have reason to be worried," writes Barry Eidlin in Jacobin. "His public pronouncements about bringing back coal and manufacturing jobs are based on pure sophistry, while his less public moves to gut labor regulations and workers' rights will hurt workers. Labor's dire situation predates Trump by decades, but it is likely that his accession to the Oval Office will further embolden labor's foes, much as Ronald Reagan's election did in the 1980s.
"Early indications have confirmed these suspicions, as the candidate who portrayed himself during the campaign as a tribune of the working class has packed his cabinet with billionaires and business leaders.

"Of particular concern for workers are his picks to head the Departments of Labor and Education. While personal controversies and popular mobilization derailed Trump's first choice for Secretary of Labor, CKE Restaurants CEO Andy Puzder, his replacement, R. Alexander Acosta, presents more conventional but still troubling challenges for labor. His record while serving on the National Labor Relations Board in the early 2000s suggests an employer-friendly attitude towards labor policy common among mainstream Republicans. Meanwhile his Secretary of Education, Amway billionaire Betsy DeVos, has made her name promoting school privatization and attacks on teachers' unions in her home state of Michigan and elsewhere. …