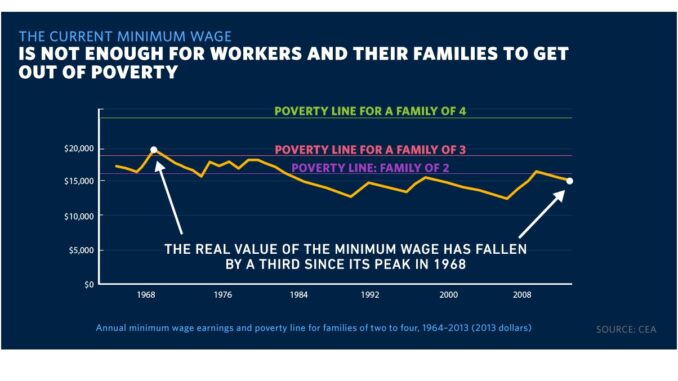 Reprinted from The American Prospect by Justin Miller on July 25, 2017.
"On July 24, 2009 the federal minimum wage was increased from $6.55 to $7.25 an hour, the third and final increment of a bipartisan-backed law passed in 2007," writes Justin Miller in The American Prospect. "In the eight years since, the United States' wage floor has remained stuck at that level, the prospects of an increase stymied by congressional inaction and hostile corporate influence.
"For decades, the federal minimum wage was a rather effective tool for ensuring that workers could earn enough to support a family. Now, its power has been all but eroded.
"At the minimum's peak value in 1968, a full-time minimum-wage worker earned about $19,500 in today's dollars, enough to keep a family of three above the poverty line. Through the early 1980s, the minimum wage remained strong enough to keep a family of two out of poverty.
"Since then, the minimum wage's value gradually fell even as worker productivity levels have continued to rise. …