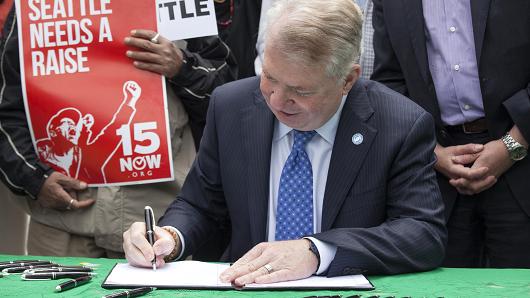 Reprinted from The New York Times by Arindrajit Dube on July 20, 2017.
Seattle was the first city in the United States to raise the minimum wage substantially, so a University of Washington study released last month showing big job losses has received a lot of attention, and prompted many an I-told-you-so.
The job losses in the study were far greater than in a control group of similar areas in Washington State (where the minimum wage was not raised). Because the study found that low-wage workers lost income as a result of the increase, it was a much more dire assessment of the effects of a minimum-wage increase than even the more pessimistic studies to date.
The authors speculate that this is probably because of the big rise of Seattle's minimum wage, and because they are looking at the impact on all low-wage jobs, not just specific sectors like restaurants. This point is relevant because a recent study from the University of California, Berkeley, found little impact on restaurant employment in Seattle compared with other similar metro areas.
But it is also possible that the University of Washington results reflect the limitations of studying a single experiment. Seattle, with its tech boom and rapidly rising wages, differs from the rest of Washington in ways that may make such a comparison misleading. …