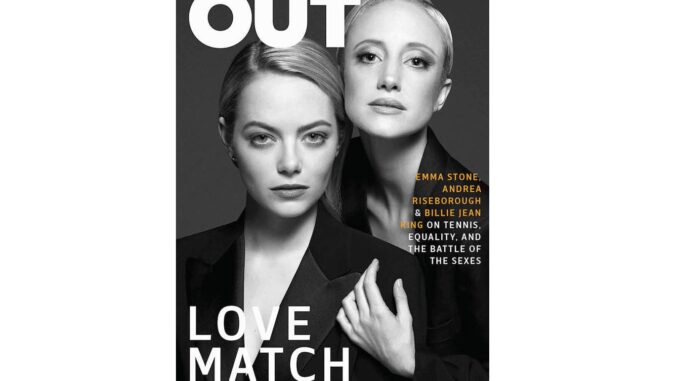 Reprinted from The Hollywood Reporter by Lorena O'Neil on July 7, 2017.
Emma Stone is playing tennis icon Billie Jean King in the upcoming Battle of the Sexes movie and she, King and Stone's co-star Andrea Riseborough spoke about gender equality and inclusion in Out magazine.
The film focuses on King's match with Bobby Riggs, the same year King fought for equal prize money for men and women at the US Open. Stone talks about how equal pay is still a challenge for women now.
"At our best right right now we're making 80 cents to the dollar," said Stone, adding that in Hollywood it's "a difficult system because it depends on the kinds of films you're a part of, the size of your role, how much the movies make at the box office. And so much of that changes your pay throughout your career, so I go more to the blanket issue that women, in general, are making four fifths at best."
King added that Stone's "at best" statistic is for white women, with the gender pay disparity increasing for black or Latina women, who are often paid even less.
"In my career so far, I've needed my male co-stars to take a pay cut so that I may have parity with them," said Stone. "And that's something they do for me because they feel it's what's right and fair. That's something that's also not discussed, necessarily — that our getting equal pay is going to require people to selflessly say, 'That's what's fair.'" …