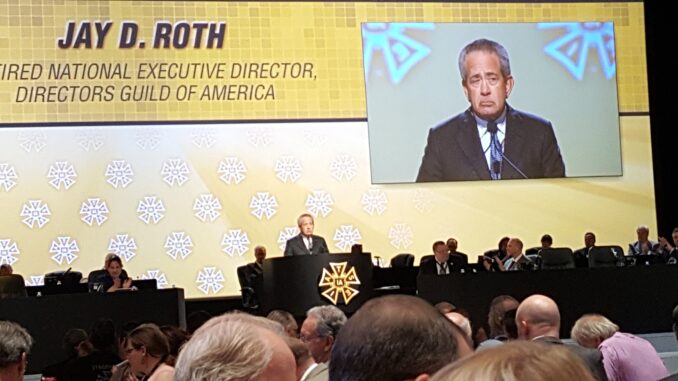 Jay Roth, the Directors Guild's Retired National Executive Director, spoke to the IATSE International Convention on Wednesday in Fort Lauderdale.
Roth reminded delegates that he was a labor-side attorney for the Camera Local and the Editors Guild before he came to the DGA in 1995.
He also reminded convention delegates of the essential partnership between the IA and the DGA. Roth characterized the current bargaining environment as a "flat world." Owners and producers want to pay workers once, and be free to re-use creative product as often as they like. Roth remembered Rupert Murdoch ridiculing the idea of residuals by saying he couldn't imaging paying auto workers royalties every time he got out of a car. Roth's response was "Mr. Murdoch, you still pay residuals."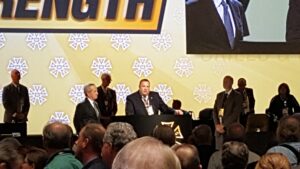 When Roth was done, IA President Matt Loeb surprised Roth with a lifetime membership to the IA.
Roth was preceded at the podium by DGA Executive Director Russell Hanover and DGA President Thomas Schlamme. All three asserted the singular importance of the bond between the IA and the DGA. Schlamme nodded to this relationship saying, "We are only as good as the sum of our parts." He quoted Noam Chomsky, by saying "Labor unions are the driving force for democracy and progress."