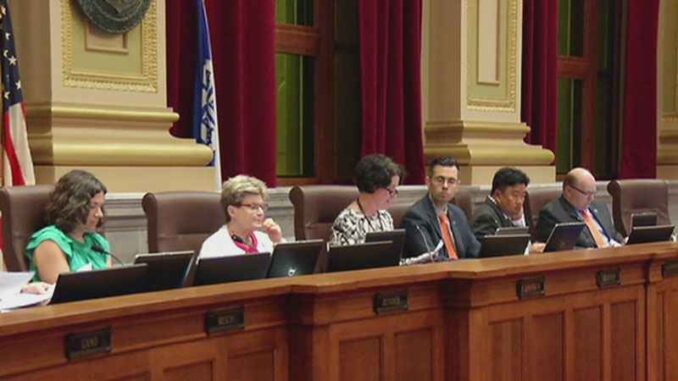 Reprinted from The New York Times by Reuters on June 30, 2017.
The Minneapolis City Council approved a measure on Friday requiring large companies to pay workers least at $15 an hour by 2022, following moves by other liberal-leaning US cities to raise the minimum wage.
The pay hike will be phased in citywide by 2024 and makes Minneapolis the first city in the Midwest to set a timetable for a $15 minimum wage.
The measure, an effective pay increase of 58 percent for workers at large businesses and 94 percent for those at small ones, was approved by an 11-1 vote.
Large businesses, including fast-food chains, must pay at least $10 an hour beginning January 1, according to a news release from the city. On July 1, 2018, small businesses will have to pay $10.25 and the rate will go to $11.25 for large ones. …
Ellison Jams Out to Celebrate Minneapolis $15 Minimum Wage
Reprinted from Common Dreams by Jake Johnson on June 30, 2017.
The Minneapolis City Council on Friday voted overwhelmingly to raise the minimum wage to $15 an hour, news that made Representative Keith Ellison (D-Minnesota) so happy he broke out his guitar and sang in celebration.
The performance was not unusual for Ellison, who has a history of pairing his musical talents with advocacy for a living wage for American workers.
Ellison "showed up to our first strike with his guitar," noted Fight for $15's official Twitter account. "He's been here since day one." …