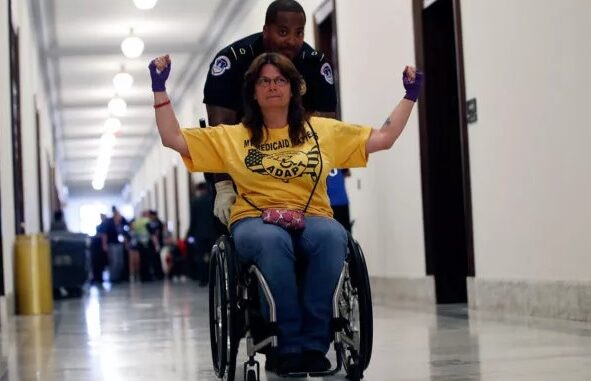 Reprinted from The Nation by John Nichols on July 28, 2017.
"The Social Security Amendments of 1965, which established Medicare and Medicaid, were approved by the House of Representatives on July 27 of that year and by the Senate on July 28 of that year," writes John Nichols in The Nation. "These life-saving, and life-transforming, measures became effective two days later, on July 30, 1965, when President Lyndon Johnson signed them into law.
"As the 52nd anniversary of those historic dates approached this summer, Medicaid's future was threatened by Republican members of Congress who in their rush to destroy President Obama's legacy—via the repeal of the Affordable Care Act—also laid the groundwork for the destruction of President Johnson's legacy.
"There is no underestimating the significance of the failure of President Trump and his congressional allies to get their way in the early morning hours of July 28, 2017, when the Senate narrowly rejected the so-called "skinny repeal" that had been proposed by Senate majority leader Mitch McConnell. CNN referred to the 49-51 vote as 'a devastating setback to Republican efforts to repeal and replace Obamacare.' But the Senate vote was about more than repealing the Affordable Care Act. Had the Senate approved the absurdly ill-defined 'skinny repeal' legislation, activists and senators who opposed the measure feared that it would ultimately be sent to a House-Senate conference committee where, warned Maine Republican Senator Susan Collins, 'I believe a conference bill would include the kind of deep cuts to Medicaid that would be very problematic for the people I represented.' …