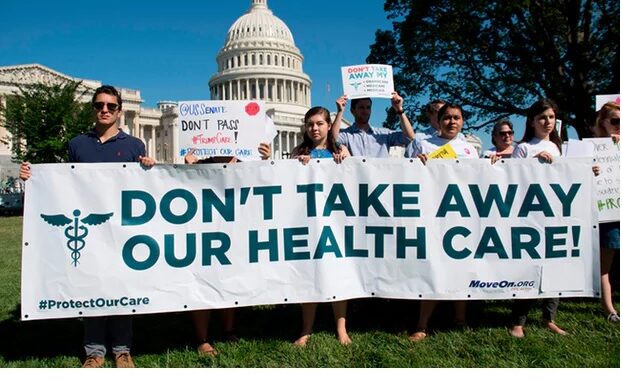 Reprinted from The Guardian UK by its staff on July 2, 2017.
As Donald Trump's health secretary fended off questions about whether the president is too distracted by Twitter to focus on healthcare reform, the White House's top legislative liaison official said the Senate was "getting close" to agreement on a bill to repeal and replace the Affordable Care Act, Barack Obama's signature legislative achievement.
Marc Short, the White House legislative affairs director, told Fox News Sunday Trump was spending the weekend making calls to lawmakers to "get the Senate package across the finish line".
As Short spoke, Trump sparked a war of words in the media by tweeting a video, apparently taken from Reddit, of himself body-slamming a man with a CNN logo for a head, with the message: "#FraudNewsCNN #FNN".
On NBC's Meet the Press, health and human services secretary Tom Price was asked if the president's tweeting was getting in the way of the legislative effort.
"The fact of the matter is that he can do more than one thing at a time," Price said, in a tense interview in which he also refused to comment on the president's tweeted abuse of MSNBC host Mika Brzezinski. …