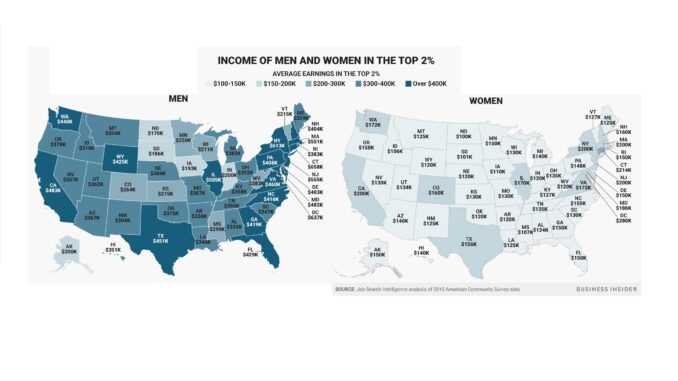 Reprinted from The San Francisco Chronicle by Lauren Lyons Cole on August 9, 2017.
Men at the top are really raking it in.
While the average salary for the top 2% of earners in the US is $206,000, the highest-paid men out-earn women by a staggering $226,000 on average, according to an analysis of the 2015 American Community Survey by labor economics research firm Job Search Intelligence (JSI).
The difference is bigger in some states than others. Alaska has the smallest gap, with men making $50,000, on average, more than women in the top 2%. In Connecticut, which has the largest pay gap, men earn $444,000, on average, more than the highest-paid women. …
There is good news, however. While only 20% of senior executives are women, female CEOs tend to out-earn their male counterparts. In 2016, median CEO pay for women was $13.1 million, compared to $11.4 for men. …