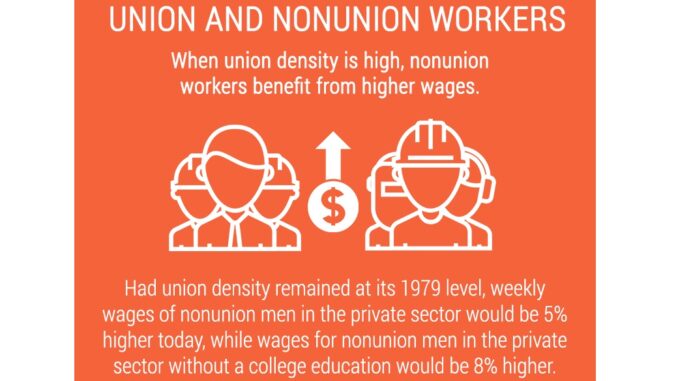 Reprinted from the AFL-CIO blog Now by Kenneth Quinnell on August 25, 2017.
A new report from the Economic Policy Institute takes a deep look at the role and importance of unions as the key avenue for working people to come together and negotiate for an expansion of their rights and freedoms. Here are nine things you need to know about the state of the labor movement in 2017.
1. Unions amplify the voices of working people on the job: Organized labor is one of the largest institutions in America: One in nine US workers—16 million of us—are represented by unions. Joining a union means that you and your co-workers have a say in the workplace. When working people come together to negotiate, it means they are more likely to have their voice heard, which means they are more likely to win wage increases, better access to health care and workplace safety, more reasonable and predictable work schedules, and more satisfactory avenues for settling workplace disputes.
2. Working people in unions are as diverse as Americans as a whole: Union members are much more diverse than we are depicted in the media. Nearly two-thirds of union workers from 18-64 are women and/or people of color. Almost half of union members are women. More than one-third of union members are people of color. Black workers are more likely to be union members than white or Hispanic workers. …