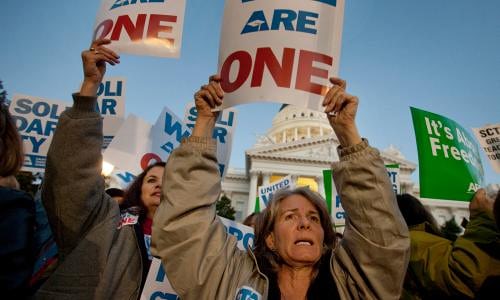 Reprinted from Common Dreams by Andrea Germanos on August 30, 2017.
As a new poll shows labor unions enjoy their highest approval rating in over a dozen years, newly obtained documents reveal a nationwide plan by an alliance of right-wing think tanks to "deliver a mortal blow" to government employee unions to keep progressive politicians out of power at the state and national levels.
The State Policy Network (SPN) documents were obtained by the Center for Media and Democracy and first published by the Guardian.
Center for Media and Democracy describes the SPN, which kicked off its annual meeting in San Antonio, Texas on Tuesday, as "the tip of the spear of far-right, nationally funded policy agenda in the states that undergirds extremists in the Republican Party." …