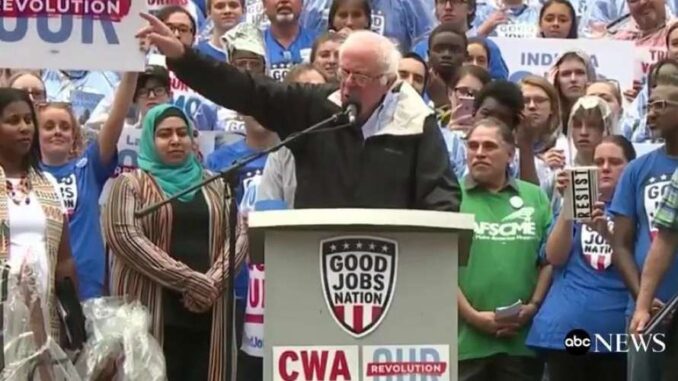 Reprinted from Common Dreams on August 21, 2017. It is unattributed.
As part of a multi-stop tour through midwest states this week, Senator Bernie Sanders (I-Vermont) addressed organized workers in Indianapolis, Indiana on Monday and told them that even as President Donald Trump is an "embarrassment" for equivocating on white supremacy and racism, it will take a re-energized labor movement to take the nation back from the billionaire class and powerful corporate interests that now grip the nation's Republican-controlled government.
Speaking at a rally hosted by the Communication Workers of America, Good Jobs Nation, and Our Revolution, Sanders blasted the president as he drove home the need for a galvanized a grassroots movement that would fight on behalf of working class families and cut beyond racial division.
"We're not going to rebuild the shrinking middle class unless we rebuild the trade union movement," declared Sanders.  The Independent senator from Vermont also confirmed that "When Congress reconvenes, I will introduce legislation calling for a Medicare-for-All program." …