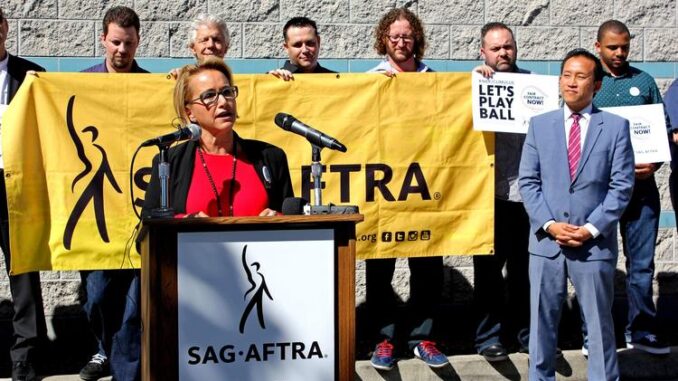 Reprinted from The Hollywood Reporter by Jonathan Handel on August 25, 2017.
"Vitriol, personalities and charges of electoral misconduct," writes Jonathan Handel in The Hollywood Reporter. "We're not talking Trump: this one is closer to home — the just-concluded SAG-AFTRA elections.
"Unlike the writers and directors guilds, the performers' union's politics are notably factionalized. Newly reelected union president Gabrielle Carteris (Beverly Hills 90210), who tops the dominant Unite for Strength slate, received 50.6 percent of the vote while MembershipFirst's Esai Morales received 28.1 percent, former MF member Pete Antico garnered 14.2 percent, and two other independent candidates received 6.7 percent in aggregate.
"Although Carteris was the incumbent, this was her first electoral test in front of the membership, as she had been unanimously elected by the union's board last year to fill out the term of the late Ken Howard.
"Meanwhile, MF's Jane Austin was reelected as national secretary-treasurer and her slate performed strongly in the Los Angeles elections as well. Those results, and Carteris' hairsbreadth majority in the president's race, reflect divisions over strategy, personality and even the 2012 merger of SAG and AFTRA that are likely to continue to roil the union in the days ahead. MF, which opposed the merger, controlled the union from about 2005 through early 2009, when UFS wrested control, replaced the national executive director and restarted stalled contract talks. Those changes still sear MF members. …