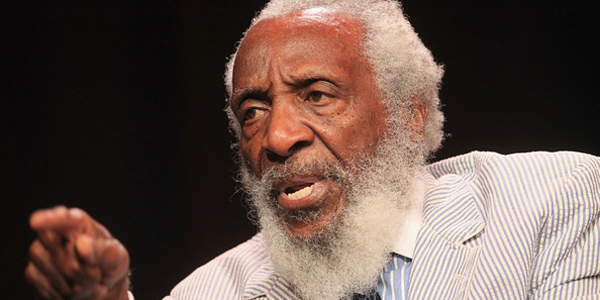 Reprinted from The Hollywood Reporter by Lauren Huff on August 19, 2017.
Following the news that Dick Gregory, a pioneering comedian and social and political activist, died on Saturday at the age of 84, Hollywood icons and political activists took to Twitter to mourn.
"Dick Gregory, 84, comedian, activist, author, lecturer and world famous teacher, died tonight surrounded by the members of his family of heart failure," his publicist of 50 years, Steve Jaffe, told The Hollywood Reporter. Gregory's family has asked for privacy and said that a full statement and details of his funeral would be released Sunday.
"He was one of the sweetest, smartest, most loving people one could ever know," Jaffe told THR. "I just hope that God is ready for some outrageously funny times."
Ava DuVernay shared a quote of Gregory's and captioned it, "You taught us and loved us. Thank you, #DickGregory."
John Legend, who produced the off-Broadway play Turn Me Loose — in which Emmy-winning actor Joe Morton (Scandal) portrayed Gregory — tweeted, "Dick Gregory lived an amazing, revolutionary life. A groundbreaker in comedy and a voice for justice. RIP." …
Dick Gregory, Who Rose from Poverty to Become a Groundbreaking Comedian and Civil Rights Activist, Dies at 84
Reprinted from The Los Angeles Times by Dennis McLellan on August 20, 2017.
… In 2016, musician John Legend produced a one-man play on Gregory's life, "Turn Me Loose." Legend said he marveled at how fresh and relevant the comedian's brand of humor of remained.
"It sounds like he's aware of what's happening now even though they were written so long ago," Legend told The Boston Globe.
The lines were pure Gregory, funny, clever and dipped in sarcasm : "I never learned hate at home, or shame. I had to go to school for that." …