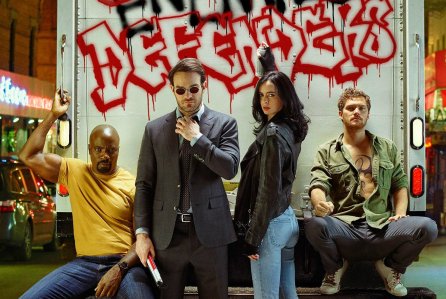 Reprinted from Deadline Hollywood by Anthony D'Alessandro on July 31, 2017.
Marvel Television and Netflix's footprint in the state of New York has grown to include an additional 23 episodes of its series to be shot in the state by the end of 2017 raising its overall count to 135 episodes. According to the Governor's Office of Motion Picture & Television Development, this represents the largest television projection project commitment in New York State history, with Disney's Marvel TV and Netflix more than doubling their initial commitment since the labels' production in the state was announced in late 2013. That grand total includes shoots for the streaming series The Defenders which is set in New York City's Hell's Kitchen and The Punisher plus other superhero series. The additional 23 episodes to be shot this year include season 2 of Iron Fist and season 3 of Dardevil while 26 episodes are currently in production for season 2 of Luke Cage and season 2 of Jessica Jones.
Marvel TV/Netflix's shoots in New York have engaged 500 local vendors and small businesses that have supplied soundstages, equipment rentals, supplies and catering throughout the state. Production hires since the deal was announced total more than 14K.
"New York is home to world-class entertainment talent and opportunities, and this historic commitment from Disney and Marvel Television studios underscores our position as the film and television capital of the world," Governor Andrew Cuomo said in a statement. "These productions will result in thousands of new hires and infuse our economy as we continue our momentum across the state." …